2ND YEAR
The second year of Procurement Forum with the theme Purchase as the co-creator of corporate value was held on May 20, 2014 at the Clarion Congress Hotel and excelled not only by a higher number of participants than the last year (more than 200), but also by unusually open discussion atmosphere. The Forum focused on added value that corporate purchasing departments can create: not only in terms of profit, but also in managing and creating long-term partnerships with suppliers. The program consisted of two parts the morning followed by a panel discussion and afternoon specialized workshops on tools and processes in purchasing and case studies of competitions. The ambition of this forum was also to refute three common myths about buying: purchase is only about the pressure on the price, purchase is a back office activity processing an order, purchase is not transparent and the purchase is stealing. The organizing company Blue Events collaborated in creation of the program with expert guarantor Marek Rokoský.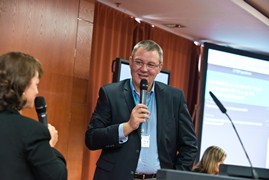 First part full of information named Position of purchase in company was moderated by Bronislav Pánek from EY. Key issues included the organizational integration of procurement within the company, relationships with internal customers and goals of the purchasing department. Miloš Olejník, Purchasing Director of RWE CZ introduced the position and goals of the purchasing department in one of Europe's largest energy companies, where its annual expenditures represent around 5.5 billion while trading with 3,200 suppliers. Energetics is regulated conservative sector with increased security requirements, which significantly affects the choice of suppliers. He sees the added value of purchase for RWE in the roles of financial services (savings, performance) and non-financial (quality of service, check-compliance), which was successfully implemented mainly in the area of operative purchase. Pushing the role of strategic purchasing in long-term company vision through was not successful so far. In the discussion there were posed questions on balancing professionalism and negotiation skills of purchasing agents, the role of the purchase manager and his tasks for making balance between operations and development possibilities. Miloš Olejník has devoted 20 years to purchase and thanks to his rich experience he could gloss characteristics that purchasing agents across sectors have. He expressed his personal belief that: "Purchase has a role that it deserves."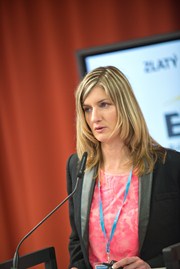 Michaela Žvaková, Purchase Director of Vítkovice Power Engineering talked about the position of the department within a company holding consisting of six business units. Engineering buys mainly components for nuclear power plants and the construction of thermal power plants Prunéřov and Turkish Ynus Emre. She spoke deeply about possibilities of digitalization of processes using the tools ePortal and eAuction. The ePortal on which there are registered 4,000 suppliers, brought increase of transparency and objectivity and reduced the costs of purchasing processes, including time savings to the company VPE. In her opinion the most important on project purchase is: "A good team of people with a sufficient number of negotiators who are not afraid to experiment and have a good knowledge of the methodology and are experts in the field.".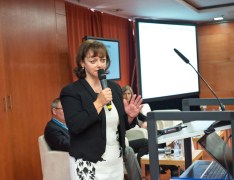 Martina Brotánková, Purchase Director of Lobkowicz Breweries introduced the specifics of the purchase of raw ingredients for beer production in an environment of ongoing changes: five years ago 7 independent breweries situated throughout the Czech Republic associated into a holding. In the process of analysis of gradual unification of purchase they wanted to avoid unification and managed to preserve the regional character of the individual breweries. Today, there are 70 brands of beer, which of course brings along increased demands on the activities of the purchasing department: "just a tender for delivering labels is often a nightmare." Before them there are next steps: purchase controlling, TCO approach and building cross functional teams, preparing new projects analyzing market opportunities and organizational structure. "To maintain the quality of supplies it is necessary to maintain long-term relationships with suppliers for strategic commodities - eg. hops or sugar – for example to have contracts for up to 5 years ahead due to the variability in the quality and quantity of harvested agricultural commodities and decreased volume of growing areas."
After all presentations were over there started fruitful discussion with active involvement of participants from the auditorium. They discussed, among other things, the motivation system for buyers and in particular the need for better education system for them. "It is fascinating that none of the panelists present has proper qualification of purchase agent, yet are responsible for billions," commented the section moderator. Panelists also agreed on the conclusion that the purchase is not about haggling on price, but about systematic work with suppliers and expertise in the area they are buying.
The second morning session Supplier selection and managing mutual relationships moderated by Martin Dokoupil, consultant and Managing Partner of Blue Strategy, took the form of free discussion and inspiring and active dialogue between the audience and the panelists: Alex Bém, Director of Procurement and Logistics, T-Mobile, Tomáš Formánek, CEO Logio, Pavel Panchartek, Head of Investment Procurement Doosan Škoda Power and Martin Zelinka, Director of Purchasing, Siemens Industrial Turbomachinery. They started from stating that in the purchase there is a dormant potential of strengthening the competitive advantage of the company.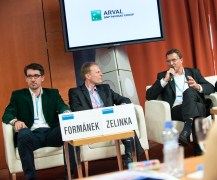 The first set of questions and answers was focused on partnerships with suppliers: it is a long-term relationship, which must bring the lowest price. They discussed the qualities that create a partnership with key suppliers. The partnership is long-term and secure collaboration focused not only on price but also on the double-sided transfer of know-how leading to the open door, in some cases up to the open book policy. Tomáš Formánek said that in his view a partner is "a part of the supply chain, part of the strategy and preparation of new business, a part of joint success from which he may, under certain conditions, have a financial interest". The forum participants shared experience with central contracts in the relationship between the parent company and daughters, Alex Bem talked about: "Necessary combination of fair dealing with suppliers and courage and diplomacy, which are needed for internal negotiations on changes in these corporate standards."
Further discussion circle dealt with selecting a supplier, who is also a client. There are two approaches - the purchase and sale must play their role, barter deals do not work long term and result in a chaotic state, when no-one knows who's earned or lost on it, or signing multilateral contracts by commodities regarding ÚHOS. A lively exchange of experience with Vendor Managed Inventory - VMI - brought interesting working examples from practice, where suppliers took over and guaranteed the care of inventory based on sales forecasts.
Other issues which interested participants and inspired them to exchange experience and inspiration even after the panel, were: How to keep a portfolio of suppliers, when to give the supplier a space and opportunity to propose instructed alternatives to formulate demand, and results of the approach design to cost. Martin Dokoupil summed up: "I see the annual shift in approach. Last year, participants inclined to holding their competencies and called it a dangerous situation when the end user (business client) gets into direct contact with the supplier. This year they mainly meant that it is worth investing time and energy in the negotiation process with revealed cards in order to precise specifications and partnerships with suppliers. You will need masterly skill to be able to distinguish the situation as necessary and use both approaches creatively."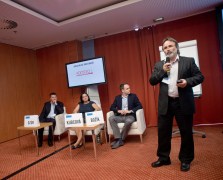 Afternoon Case studies of major competitions were moderated by an independent consultanJosef Zrník. Martin Dzúr, CEO Mediaservis, characterized the postal market which started by liberalization in 2013. In the market there operates companies Mediaservis Czech Post and Česká distribuční. Mediaservis differs from competitors in complex portfolio of services and consistent track and trace system with ranking deliverers. Petra Kubcová, Specialist of Strategic Purchase of Services of the company RWE, has introduced an innovative method of selecting a new ATL creative agency. She assigned finalists with the task - to prepare a communication strategy in one day. "This unusual way of tender ensure RWE in addition to the standard conditions for the disbursement of the allocated fee to bound 7% of the fee to the fulfillment of the business plan," concluded Kubcová.
Ladislav Božík, Supply Chain Director from Valeant Pharmaceuticals tested audience's attention when he introduced the seemingly unsolvable situation. As a consultant he was given a task to find supplier for Steel packing tapes, which only two global manufacturers are able to deliver in the required quality and quantity. Change of supplier would ultimately mean minimum savings (in the scale of 2-3%), negotiations with the existing supplier about new conditions failed. After thorough analysis and excursions into the field it was shown that the material can be used more efficiently. The new way brought savings of 65%. "The key was to change management thinking, to convince them about the alternative and outcome," concluded Božík. Tomáš Wolf, Procurement Director, Skanska, introduced a tender for protective equipment, which the company led for the Czech Republic, Slovakia and Poland at a time. "We engaged key shareholders - buyers, trade unions and occupational health and safety representative for all three countries - to the decision-making team." The results of the tender have led to cost savings of 16%, a new unified design, better material and greater functionality of the protective gear. Lucie Šebelová, Purchase and Methodologies Specialist at Siemens Industrial Turbomachinery, discussed with participants of the discussion sections about the specifics of the selection of suppliers of engineering technology. This gave rise to a lively debate among competitors Siemens and Doosan Skoda Power, which were peppered by replicas of their client, Slovak plant.
Parallel workshop Tools and processes in purchase led by Marek Rokoský, companion of KRC partners. In his introduction Daniel Ladra presented a case study of the introduction of Vortal platform at Mota- Engilcompany, from the stage of the communication plan, when it was necessary to convince users about the benefit of this service - representative of the company management and the contractor, through the process of set up to practical workshops and webseminars with the character of on-the-job training "to do the job at the moment while I'm learning to do it". Today 600 active users of Mota Engil enters the system, 3200 suppliers, 17,000 tenders take place annually and it was possible to achieve annual savings of 230 000 EUR, mainly on limiting administration, to a lesser extent on the purchase price. Such a robust system is valuable only for large companies with at least 1,000 employees.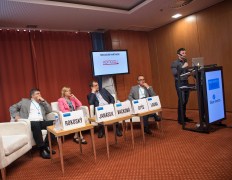 Karel Otýs, instructor of training programs, explain in his speech details of their experience with SPEND analysis, which in addition to the expected results of significant savings brought increase of the credibility of the purchasing department within the company. As some participants of the plenum pointed out by: "It is important to not only reveal and eliminate mistakes of the past by the spend analysis, but also include an estimate of the expected changes in buying of individual commodities in the future." After that the importance of demands as operational tool for the efficient shopping was stressed.
Pavel Janásek, Lead Buyer of the company Evraz Vítkovice Steel focused on e-auctions and how to use them optimally. Above all, it is important to carefully choose which investment and other commodities will be the subject of e-auctions, and where this is not appropriate. While choosing a commodity, it is important to take into account from which environment the commodity is from. In some areas there are so powerful cartel ties where suppliers monitor and control each other so the e-auction has no place here – it does not produce results. Another common external problem is the averse of contractors to use applications or objections on the course after e-auction is over. Despite the mentioned shortcomings Pavel Janásek considers e-auction to be a very effective tool.
Performances of panelists were completed by Eliška Vacková from the company Strabag. Her theme was a detailed description of advantages of the use of internal catalog through which various departments and workplaces of Strabag solve their purchase. Its advantage lies in possibility to set different permissions for different levels of employees, the precise specification of items and possibility to include only those that meet the specified quality and safety parameters, product prices, which are always better than those in the free sale and free shipping. Another advantage is a precise overview of received goods that must always be recorded to the catalog also. Based on the outputs from the catalog it is then easier to realize a tender for the next period. The downside of the catalogue in the case of Strabag is binding the catalogue prices on the course of EURO – the price lists must be updated if the course changes too much. The presentation of Eliška Vacková was followed by lively discussion in which other users of similar systems joined an opinion that the guaranteed annual stability of prices from all suppliers involved proved good. This will ultimately pay off for both sides: "The catalogue solves not only prices but mainly it significantly reduces administration costs connected with daily ordering goods on the side of suppliers and customers. It's 'easy business' - so simple and effective that it is beneficial for all."
The whole-day forum was attended by more than 200 professionals of purchase who confirmed their interest in further meetings during live discussions. "We clearly feel interest of Czech buyers in building a community and we are pleased that the Procurement forum can offer the much-needed fertile soil in this sense", says Antonín Parma from the organizing company Blue Events. Procurement Forum was supported by many companies at the forefront with the golden partner EY.